When we clean your property, we'll leave it looking and smelling better than ever before.
B & A Cleaning Services in Bedford offers full-service cleaning for office buildings. The importance of presenting a clean environment is essential to make an impression on clients and customers. It also provides benefits for employees, having a profound effect in the sense of employee work ethic and productivity. One of the most disrupting elements in a workplace or living quarters is an unclean and unorganized environment. Lean management in a company perspective demands an environment that is characterized by cleanliness and time-saving organizational elements. We can start your company on the track of keeping organized, and ultimately, a healthier environment in all regards with our professional cleaning services.
We help our clients achieve their most important goals. With years of experience and unmatched credentials, B & A Cleaning Services is uniquely equipped to make a significant and lasting impact with our clients.
We know our clients' needs are always changing, so we continuously seek new and improved ways to serve them.
---
FEATURED SERVICES
Learn more about the janitorial cleaning services we offer:
We offer commercial and residential cleaning services with insured and bonded employees held to the top standards on every job.
We guarantee our cleaning services, and all of our services fall under the B & A 100% satisfaction guarantee. If for any reason you are dissatisfied with any area that we have cleaned, we will gladly return to address the issue and correct it.
Whether you need your whole building cleaned or just one room, call us.
Let us help revitalize the beauty of your property.
Whether you need one item cleaned or multiple items, call us.
Give customers a clear view into your business with our professional window cleaning services.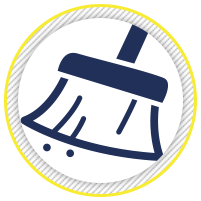 Recurring Commercial Cleaning
Commercial cleaning for office buildings
One-Time Cleaning
We're happy to provide you with a quote for a one-time cleaning job.
---
"We Build All Cleaning Plans To Meet Your Budget Needs"
We offer a customized cleaning plan that includes only the services that you need. Our cleaning crew can accommodate such areas as:
Foyer / Entryway
Reception Areas & Desks
Restrooms
Breakrooms And Cafeterias
Kitchens And Coffee Stations
Trash Removal And Disposal
High And Low Dusting
Vacuuming, Sweeping, And Mopping
Conference Rooms
Common Areas
And More
---
Why Janitorial Cleaning is Important for Your Business
Janitorial cleaning services remain an integral part of office maintenance, cleanliness, and hygiene practices. No matter what industry, a clean office creates lasting impressions, but also keeps employees motivated and your bottom line high! Much like the business investments made to maintain successes and productivity, so your company should invest in its commercial office cleaning to ensure a high standard of maintenance is always applied! Sparkling desks, dust free equipment, and tidy office spaces are best achieved with professional janitorial cleaning services. A closer look at the importance of an office clean can help your business make effective decisions.
The Importance of Janitorial Cleaning

Create Positive Impressions
When a potential business partner, customer, or client enters your office, you may not be aware of the dramatic influence a poorly maintained commercial space can have on their opinion of your company. The state of your office is often aligned with your professional ethical standards. With expert commercial office cleaning, you can create all the right impressions.
Provide Employees a Conducive Workspace
Offices free from dust, allergens, and dirt provide employees a healthy workplace in which they can thrive. Offices that are cluttered, poorly maintained, and generally dirty could make employees less productive and prone to illness or chronic allergies. Do not allow a poorly maintained office to affect your bottom line. Invest in a high standard of janitorial cleaning services for the benefit of employee wellness and productivity.
Keep Bathrooms Hygienically Clean
An unkempt bathroom is a breeding ground for germs. A sudden illness can spread rapidly through the office owing to a lack of bathroom hygiene. This means more downtime as staff absenteeism rises. The bathroom tap and sink are primary sources of germ spread. With your leading commercial office cleaning service, staff bathrooms are disinfected and left sparkling.
The Importance of Scheduled Office Cleans
Scheduling commercial office cleaning with your trusted janitorial cleaning service provides peace of mind your business remains a shining example of cleanliness. Our professional cleaners will deliver tailored maintenance solutions. Janitorial cleaning helps remove the dust and dander responsible for respiratory irritation, illness spread, and an office in poor condition. Associate your business with cleanliness and let your customers and business partners know that you take pride in every aspect of your company. Improve employee morale and keep your office productive with the assistance of an expert janitorial cleaning service you can depend on.
---
See Our Work For Yourself